Pioneer for Women's Campaign Strategy Paves the Way for Candidates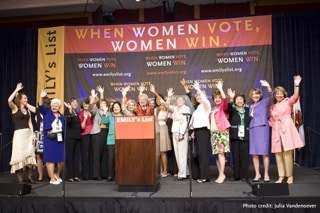 By Kathy Groob, Publisher ElectWomen Magazine.
One woman, and her band of supporters pioneered the way for women candidates to become viable and win elections.  In 1984, "women had no way to be seen as credible candidates because they couldn't raise money," said EMILY's List founder and President, Ellen Malcolm.  "How could we get the political establishment to take women seriously as candidates?  We determined that the whole thing was about early money." EMILY's List works with only pro-choice, Democratic female candidates.
So much so that Ellen Malcolm incorporated the early money concept into the name for the new organization.  There is no Emily. EMILY's List is an acronym for "early money is like yeast" – it makes the dough rise.  The founding mother's of EMILY's List drafted a letter that they sent to their network of women to ask for support for a few women running for the U.S. Senate.  They wanted to include a package of Fleishman's yeast, but it was too expensive, so they settled for a logo that had the look of a package of yeast.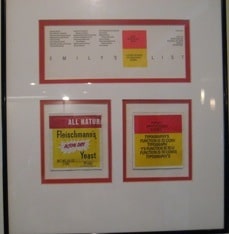 The original focus of the group was to encourage women to send checks to the identified candidates.  "We didn't know if it was working, and we did not know if women were actually writing and sending checks," said Malcolm.  It turns out that they were sending checks and the movement began to grow. 
Since that time, EMILY's List has grown to over 100,000 members and has raised millions of dollars for candidates and has become the nation's biggest political action committee.  2008 was a historic election for EMILY's List candidates as they ousted two Republican senators and elected 12 new pro-choice Democratic women to the House of Representatives.  It was the biggest gain for Democratic women since 1992.
EMILY's List focuses on the word early–early involvement and early money.  "We help advise women early about campaign staff, budget, fundraising and about whom to hire first," said Malcolm.  "We train people to work in campaigns and support a job bank so that candidates have access to good staff resumes.  Once the campaign starts taking shape and we feel the candidate is viable, that's when we recommend that our members lend their financial support."
"We do a lot to help mold women into viable candidates by providing support and advice very early in the process," says Ellen Malcolm.  Since 2003 EMILY's List has become involved in state legislative races through POP (Political Opportunity Program).  The group has held 158 training programs in 35 states training over 5,500 women for state and local office.  Occasionally EMILY's List will get involved in a city race, for example, the group has endorsed and is supporting Annise Parker for Mayor of Houston.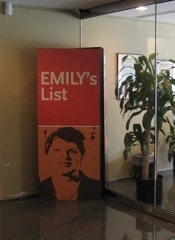 In addition to fundraising and training, EMILY's List has been mobilizing women to turn out and vote in states all across the country.  Women Vote is the nationwide voter mobilization program that integrates research, technology and old-fashioned grassroots organizing.  "Women Vote program is a huge piece of what we do at EMILY's List.  The gender gap shows that women in comparison to men prefer Democratic candidates, so that when we turn out women voters, it benefits Democratic men candidates as well as women," explained Malcolm.  "Women Vote is the most powerful movement we have to target women based on targeting and identifying women that need to be persuaded to turn out and vote.  It's tough business."
2010 looks to be another big year for EMILY's List.  36 states will be electing governors.  "We now have this whole crop of Emily's List supported candidates of which some are in a position to run for these offices," said Malcolm.  "Candidates like Alex Sink in Florida or Diane Denish in New Mexico are women that we've worked with and we're very excited about the possibility of these women holding the chief executive position in their states." 
When asked about the chances of another woman candidate for president of the United States, Malcolm said this, "She will come from elective office.  We have a pool of talented, qualified women who will be ready to run for president; we will have many to choose from."
For more information about EMILY's List, visit: http://www.emilyslist.org/.