Kentucky native, and retired Lt. Col. Amy McGrath announced today that she plans to challenge Senate Leader Mitch McConnell in the 2020 election for United States Senate. A lifetime career politician, McConnell has held the Senate seat since 1984. McGrath was the first female Marine to fly in an F/A-18 on a combat mission. McGrath served for 20 years in the Marine Corps during which time she flew 89 combat missions bombing al Qaeda and the Taliban.
Amy McGrath ran against Representative Andy Barr in 2018 and fell short by a small margin. A strong recruitment effort has taken place since that election culminating in her announcement today. McGrath announced on Morning Joe at 6:45 a.m. with a powerful video titled "The Letter". Watch here: https://www.youtube.com/watch?v=1d3skEMCIgU
When Amy McGrath was 13, she wrote a letter to Sen. Mitch McConnell because she wanted to be a fighter pilot and at that time, women were banned from combat action. She never heard back from him.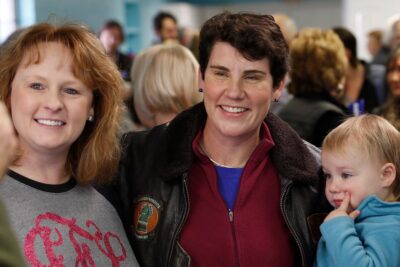 Growing up in the Cincinnati suburbs in Northern Kentucky, McGrath attended Notre Dame Academy where she excelled at varsity sports and went on to the United States Naval Academy. Amy is a mother of three and resides in Georgetown, Kentucky. To sign up and join the McGrath campaign, click here. 
MILITARY CAREER
After the 9/11 attacks, McGrath, as one of the more junior WSOs, was one of the first to report to duty at the Marine Corps Air Station Miramar base before the closing of the gates due to DEFCON 3. She was paired with a senior pilot on the flight line waiting for the order to protect Los Angeles, San Diego, and the west coast to potentially shoot down hijacked aircraft, an order that did not come to pass.[2][18]*
In March 2002, McGrath was deployed to Manas, Kyrgyzstan for a six-month tour, during which she flew 51 combat missions in a F/A-18D in Operation Enduring Freedom in Afghanistan.[12][16] She was the first woman to fly a combat mission in the United States Marine Corps.[19]
In January 2003, stationed in Kuwait, McGrath flew in support of Operation Iraqi Freedom in Iraq, where she provided air support to ground troops and conducted reconnaissance and air strikes.[10][16][20]
After being promoted to Captain, McGrath transitioned from Weapons Systems Officer to pilot after getting laser eye surgery to correct her vision and completed flight school in 2004.[2][17] During 2005 and 2006, she was deployed on a second tour of duty over Afghanistan with Squadron 121.[17] During this time she became the first female to fly in an F/A-18 in combat for the U.S. Marine Corps. In 2007, she was promoted from captain to major.[20] From 2007 to 2009, she was deployed to East Asia.[12] During this same time, McGrath was also part of Fighter-Attack Squadron 106.[15]
In 2010, she served a second tour in Afghanistan with the 3rd Marine Aircraft Wing in Helmand Province.[12] In 2010, as part of this tour, McGrath was a member of a Detainee Review Board in Parwan Province in Afghanistan.[21]
During her military career, McGrath flew at least 2,000 flight hours, and was on over 85 combat missions. She also flew in exercises in the U.S., Alaska, Egypt, Australia, Korea, and Japan.[12]
In 2011, McGrath shifted state-side, working as a congressional fellow for Representative Susan Davis's (D-CA) office in Washington, D.C., as a defense and foreign affairs advisor for one year.[12] Davis was chair and ranking member on the Subcommittee on Military Personnel of the House Armed Services Committee and has ties via her husband to Kentucky.[6]
From 2012 to 2014, McGrath worked at the Pentagon at the Headquarters Marine Corps, Strategy & Plans Division, International Affairs Branch as a Marine Corps liaison to the Department of State and the US Agency for International Development.[12][2]
From 2014 to 2017, McGrath taught U.S. government to cadets and midshipmen as a senior political science instructor at the United States Naval Academy in Annapolis, Maryland.[3][12]
After reaching her 20-year service mark, McGrath retired from the armed forces on June 1, 2017.
To sign up and join the McGrath campaign, click here. 
*Military Service Source Wikipedia