The youngest woman ever elected to the Dayton Ohio City Commissioner at age 29, Nan Whaley, is now looking to become the first woman elected as Ohio's governor.* 41-year-old Whaley has entered a crowded Democratic primary field that includes two other former elected women and a state senator. Running to make a difference for everyday, working class Ohioans, Whaley says, "Don't let them tell you Ohio's best days are behind us. Our time isn't past. Our time is now." Launching her campaign with a moving 3-minute video, Nan Whaley talks about jobs, the economy, communities and the forgotten people during her video. She also wants to see drug companies provide assistance with the heroin and opioid crisis hitting her state. (Watch video here)
Mayor of Dayton since 2014, Whaley has pioneered high quality universal pre-K for all Dayton children and made Dayton the first Ohio city to implement paid family leave. Under Nan's leadership, the city passed a Dayton Chamber of Commerce and Labor-backed ballot initiative to fund much-needed city improvements. Her work improving the Dayton community stands in stark contrast to Statehouse Republicans, who have turned their back on local communities, children, families and workers.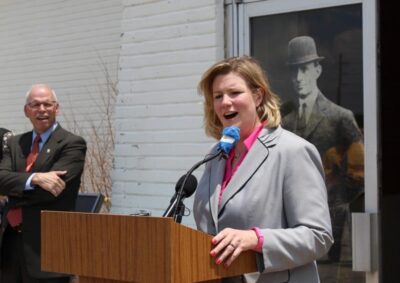 "As Mayor of Dayton, when the lights go out or our streets need plowed, I take the call," continued Whaley. "As Governor, I'll be on the job day and night because I get it and I'll get things done. We need to put Ohio back to work. There's a better way. We can and must rebuild our state – community by community."
From a working-class neighborhood in Indiana, Nan moved to Dayton for college at the University of Dayton. Since then, she's called Dayton home. Nan served two terms on the Dayton City Commission before she was elected the second female Mayor of Dayton.
Whaley is widely seen as a young, rising star within the Ohio Democratic Party. Ohioans "are desperate for new leaders, and Ohio Democrats are looking forward to a spirited primary, when our candidates will make the case that they represent change from the status quo," said Kirstin Alvanitakis, spokesperson for the Ohio Democratic Party. "If Mayor Whaley chooses to run for governor, we would welcome her to the field."
*NOTE: Nancy Hollister was appointed as Ohio's governor following a vacancy and served for 11 days. She was never elected to the office.