Behind the scenes of Hillary Clinton's surprise Chicago visit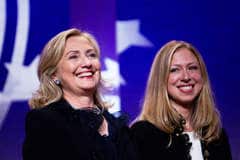 The Chicago Sun-times – The Hillary file . . .
She sat in a corner.
◆ Translation: Hillary Clinton, one of the world's most powerful women, chose to sit in a quiet, corner table with her Park Ridge school buddies Saturday night — rather than at a head table with her husband, former President Bill Clinton, who was receiving the prestigious Lincoln Leadership Prize at the Hilton Hotel.
Instead, Hillary, a hush-hush surprise guest, chatted with her old Park Ridge chums Betsy Ebeling, Ernie Ricketts and Kevin O'Keefe to catch up on their lives and new grandchildren.
"Her eyes were clear, her color was good. She looked wonderful," said Hillary's best friend, Betsy Ebeling, alluding to Hillary's illness during the last days of her stint as the much-traveled secretary of State. "And what's so amazing, after all those speeches Bill Clinton has given, Hillary kept saying how totally amazing his speech was. They really love each other. It is so refreshing, even after all these years, to see it."
It's no secret that Hillary, who is this/close to daughter Chelsea, looks forward to grandchildren. "She has practically adopted all her staff's children and grandchildren," said Ebeling, who noted Hillary has a very tender, loving side those who aren't close to her rarely see.
"Most of the room had no idea she was there, let alone saw her, when she was introduced by her husband," said a Sneed source. "Neither Clinton stayed for dinner. President Clinton ordered a vegetarian appetizer, but they both made a slow exit from the room after Clinton's speech to head back home. They had just come from Little Rock, Ark., where an airport had been named after them."
via Behind the scenes of Hillary Clinton's surprise Chicago visit – Chicago Sun-Times.