Florida Sheriff Larry Campbell Displays Vulgarity and Sexism Towards Female Opponent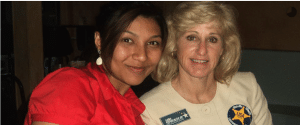 By Kathy Groob, Founder ElectWomen – National organizations including The Women's Campaign Fund, National Organization for Women, Florida Women's Democratic Club, Capital City Women's Democratic Club and Name It. Change It., are outraged over the actions and remarks of the current Leon County Florida Sheriff Larry Campbell against his challenger Lisa Sprague.
While in uniform and representing citizens of Leon County, Sheriff Larry Campbell has exhibited blatant sexist attacks in candidate forums specifically targeting his female opponent, Lisa Sprague. A former police officer, Sprague is running as an independent in the three-way race for the county sheriff's position.  Following a candidate forum in August, Sprague extended her hand to the Sherriff and Campbell responded by angrily saying "f…k you!"
Sheriff Campbell has attacked Lisa Sprague with blatant sexist remarks in recent forums, referring to her as "that woman" rather than by her name. He said "he would take her down to a range and shoot her," and has said, "She doesn't know a damn thing she's talking about."
"Voters expect professionalism from their elected officials, law enforcement or otherwise," says Sprague. "It's a three-way race and my other male opponent has not been subjected to this type of treatment."
Of the 3,084 sheriffs in the United States, only 42 are women according the National Sheriffs' Association. There are currently two Sheriffs in the State of Florida that are female. One such Sheriff, Susan Benton is the incoming President of the Florida Sheriff's Association and the other, Sadie Darnell, is the Chair of the Sheriff's Foundation.
"We strongly condemn Sheriff Larry Campbell's sexist attacks against Lisa Sprague," said Siobhan Bennett, President/CEO of the Women's Campaign Fund.
"Groundbreaking research from our sister organization, Name It. Change It, shows that sexist attacks like these, either in the media or from an opponent, can drastically damage voters' perceptions of the woman candidate," says Bennett.
"Name It. Change It. exists to replace the usual silence that follows an attack," added Bennett.  Calling it out as sexism is a critical step for women candidates seeking to repair the damage with the voters. WCF applauds Lisa Sprague for taking a stand against the severe misogyny coming from her opponent and call on the voters of Leon County to do the same."
To read more about Lisa Sprague, click here.