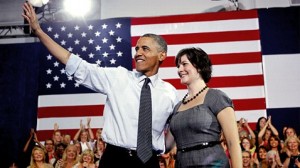 ABC News – DENVER — Trailing rival Mitt Romney in a new Colorado poll, President Obama today kicked off a two-day swing through the state by aggressively courting women voters with his signature health care law.
The vigorous pitch, emphasizing the law's popular benefits for women — from preventive care services without co-pays to mandated insurance coverage for contraceptive care — underscores just how important Democrats believewomen voters will be in the battle for November.
"I don't think a working mom in Denver should have to wait to get a mammogram just because money is tight. I don't think a college student in Colorado Springs should have to choose between textbooks or the preventive care that she needs," Obama said. "That's why we've passed this law. It was the right thing to do."
Obama pitched a sharp contrast with Romney on the Affordable Care Act, noting that the governor has said he would "kill it dead" on his first day in office.  He also raised Romney's pledge to end federal funding for Planned Parenthood and tepid support last year for a Mississippi person-hood amendment that was widely interpreted as threatening to outlaw some forms of birth control.
"I mean, you know, Mr. Romney's running as the candidate of conservative values. There's nothing conservative about a government that prevents a woman from making her own health care decisions. He says he's the candidate of freedom. But freedom's the chance, the opportunity to determine for yourself the care that you need when you need it," Obama said.
Obama's pitch was aimed at shoring up support with women among whom he holds a significant edge over Romney in the latest Quinnipiac University/New York Times/ CBS News poll, 51 to 43 percent.  Among men, Obama fares much worse, trailing Romney by 17 points in the poll, 39 to 56 percent.
Romney leads Obama overall in Colorado, 50 to 45 percent.   The poll, conducted July 31 to Aug. 6 has a margin of error of plus or minus three points.
But Romney campaign spokeswoman Amanda Henneberg said Obama's characterization of the presumptive GOP nominee's views are simply "false and recycled," and an attempt to divert attention away from the economy.
"Hundreds of thousands of women have lost their jobs, poverty among women is highest in nearly two decades, and half of recent graduates can't find a good job," she said. "Middle-class families have struggled in the Obama economy, and Mitt Romney has a plan to strengthen the middle class and get our country back on the right track."
The former Massachusetts governor said during the GOP primary that he does not oppose the use of birth control and would not support steps to ban contraception in the states.
Still, Democrats say opposition to the Obama health law requirement that employer health plans cover contraceptive services free of charge signals a distinct difference in philosophy on women's health.
The read the full ABC News article, click here.