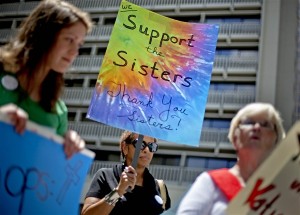 David Goldman/AP – Princess Wilson, center, joins a demonstration in support of U.S. Catholic nuns outside the U.S. Conference of Catholic Bishops' biannual meeting on June 13, 2012, in Atlanta. By Becky Bratu, NBC News
American nuns are gathering in St. Louis, Mo., this week for their organization's yearly national assembly, where they are expected to discuss the future of their relationship with the Vatican following scathing criticism of the nuns' alleged lack of fidelity to Catholic teachings.
This spring, after a three-year investigation, the Vatican's doctrinal watchdog issued a report questioning the organization's loyalty to some Church teachings, including the nuns' lack of outspokenness on issues such as gay marriage, abortion and contraception. Another concern voiced by the Vatican relates to conferences organized by the nuns featuring "a prevalence of certain radical feminist themes incompatible with the Catholic faith."
On April 18, the Vatican appointed Archbishop J. Peter Sartain of Seattle to oversee the nuns' organization and reform its programs to adhere more closely to "the teachings and discipline of the Church."
This week, the nuns will discuss a range of options for the future, from accepting the Vatican's mandate to starting a new organization independent of the church's control.
In an interview with NPR in July, Franciscan Sister Pat Farrell, president of the Leadership Conference of Women Religious, an umbrella organization representing about 80 percent of the nuns in the United States, said the organization is "not talking about the risk of excommunication or leaving the church."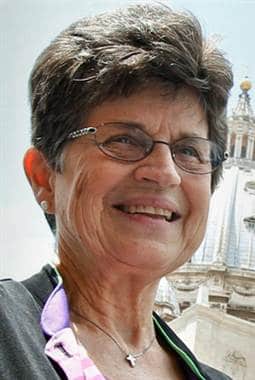 Mas Rossi/Reuters
Sister Pat Farrell, president of the Leadership Conference of Women Religious.
"The one and only underlying option for us is to respond with integrity with however we proceed," Farrell added. "Some of the options would be to just comply with the mandate that's been given to us. Or to say we can't comply with this and see what the Vatican does with that. Or to remove ourselves and form a separate organization."
Earlier, in a June interview with the National Catholic Reporter, Farrell said the option to become an independent organization would stay on the table.
"Again, that's something we can't respond to without further consultation with our members," Farrell said. "But the option always is there."
On the question of submitting to the Vatican's appointed overseer, Farrell said: "Clearly this is an outside control. We would rather not have that."
Read the NBC News article here.