For women candidates: Name It. Change It. Just Released Candidate Guide for Dealing With Sexist Media Coverage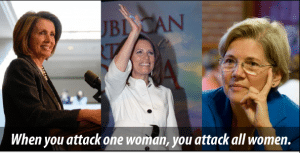 Just in time for this year's elections, Name It. Change It. has published its women's candidate guide for dealing with sexist media coverage.  Media sexism is one of the top problems facing women when they run for office and a major deterrent to women considering running. The advice from campaign strategists has typically been to ignore the sexism. "That advice is wrong," says Name It. Change It. President and CEO, Sam Bennett in a press release.
Today, Name It. Change It. announces its new resource for women candidates – Name It. Change It. Candidate Guide to Sexist Media Coverage. Name It. Change It., a collaborative project between She Should Run, the Women's Media Center, and Political Parity, works to end sexist and misogynistic coverage of women candidates and elected officials by all members of the press.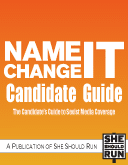 Click here to download the guide.  
Just one sexist remark can damage a woman's campaign. The Name It. Change It. candidate guide aims to equip women candidates, campaign managers, political consultants, and communications staff with the tools to succeed despite sexist comments from media.
As the 2012 election season begins, we have our work cut out for us. Name It. Change It. will not stand by as pundits, radio hosts, bloggers, and journalists damage women's political futures with misogynistic remarks.
Women are encouraged to share the guide with others and report sexist media coverage tonameitchangeit.org. "Together, we can send the message that a sexist attack against one woman is an attack against all women," says Bennett.