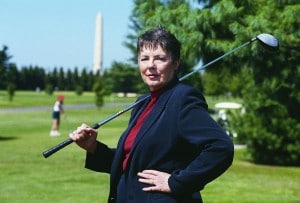 It's only golf.  What's the Fuss About Augusta National Excluding Women?
By Kathy Groob, Publisher ElectWomen Magazine – It's not politics, but in a way this type of open discrimination against women affects all women and reinforces negative stereotypes and the premise that women should be excluded from "certain things".
The controversy is driven by Augusta National golf club's refusal to allow women to become members of the club.  This policy includes I.B.M.'s new chief executive, Virginia Rometty.  I.B.M. is a major sponsor of the Masters Tournament and typically sponsor CEOs are offered a membership.  So far Rometty has not been offered a membership.
Is it just a boys' club thing?  Certainly most golf clubs invite women to become members so why the insistence of being included in one more?  August National sponsors the Masters Tournament, one of the most prestigious events in the golfing world.  It is a highly visible tournament and club that at one time insisted that all players were white and all caddies, black.  While the race discrimination has ended, the gender controversy rages on.
In 2003, Martha Burk, head of The National Council of Women's Organizations, lead a protest against the club's anti-women policy and she believes I.B.M. should not let Augusta slide on this issue now.  "They have a moral obligation to their new CEO,"said Burk in a New York Times interview.
Author Gloria Feldt told CNN "It really is ultimately about power, and Augusta National is a big symbol of the last bastion of male hegemony over economic issues, the place where big business deals are done among the biggest, most influential corporations in this country." Feldt is the author of "No Excuses: 9 Ways Women Can Change How We Think About Power."
For years, women have been excluded informally from golf course business deal-making arenas because women typically didn't play golf and golf courses have been somewhat of an all-male sanctuary for men.  The number of women golfers is increasing as women now make up approximately 22% of the golfers in the United States.  A greater percentage of golfers are women than are serving in Congress; women hold just 17% of the seats in Congress.
It's time for Augusta to get with it and stop excluding women.  It's time to call it was it is – sexism.
Women should be made to feel welcome and I.B.M. should pull its sponsorship unless the rules are changed.