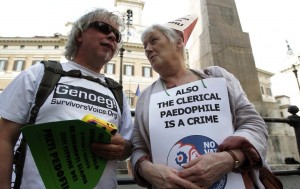 Not to be outdone by male elected officials who have made it their mission to restrict women's reproductive freedom and rights, the boys club  (aka The Vatican) has gotten into the act.  A directive has been issued to crack down on American nuns who are spending more time on social justice issues and helping the poor than working against abortion rights and stamping out homosexuality.  This comes from the very fellows who within their institution of holiness, has for decades, covered up sexual crimes against children.  (Read the CNN report here).  
An American nun responds to the report and directive from the Vatican that singles out nuns:
"At the end of the article it mentions the "visitation" and that the results
were not made public. The visitation was a project of the Vatican office
that oversees religious communities – specifically to look into what's
happening in religious communities of women in the US – note not men (don't
forget the abuse scandals mainly concerning church men) and not world-wide
religious – just us "uppity U.S. sisters". It was seen by us as coming from
a motive of suspicion. Well – the result that we heard was that, in the
main, religious communities got a clean slate. – No wonder the results
weren't published.
So now this – about LCWR, an organization that has been at the forefront of
progressive action among women religious. This organization has no authority
over religious communities, i.e. is not a hierarchical model (in itself
suspicious). It exists as an organ to promote dialog among religious women
from varying traditions/charisms. Since the Second Vatican Council LCWR has
thrown before the eyes and thoughts of religious women the issues concerning
the interplay of religious women with the people of God (in the broadest
sense). Some of those issues are not easy to look at. Almost all are about
justice on every scale – personal to global.
I want to make clear that LCWR does not speak for religious communities –
when anyone from that organization speaks it is from her personal point of
view. She, like any of us, can claim supporters who have the same feelings
and opinions.
Factor into this – there seems to be a movement within some higher offices
or officials of the Catholic Church to push back against Vatican II – if not
the specific teachings, at least against the understanding around how
collegiality and subsidiary benefit the Church.
So, my point is, it looks like that group within the Vatican is trying to
keep religious women under control. I will not speculate about motives. I
don't know what they are. I do know and trust religious women because of my
50+ years in this life. In today's scripture we hear about Gamaliel's advice
to the Sanhedrin who were dealing with those unorthodox apostles – if their
message is not from God it will dissolve with time, if it is from God no one
can squelch it."