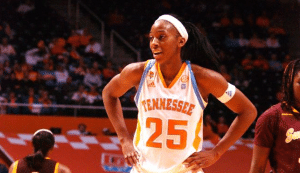 By Kathy Groob, Publisher ElectWomen Magazine – March Madness is upon us. With the end of regional tournaments, all eyes turn to the NCAA bracket in men's college basketball.  Office betting pools, cross-country travels and endless watching key match-up games in drinking establishments across the country will ensue this Thursday, March 15th.
The women's NCAA tournament begins with opening round match-ups this Sunday, March 18th with the final championship game in Denver on April 3rd.  The Baylor University women are ranked number one and are the odds-on favorite, followed by Connecticut, Stanford, Xavier University, Tennessee and Ohio State who will compete to make it to the final four.  Connecticut has dominated the season winning most games by double digits.
While college women's basketball has increased its following among sports fans, it is still hard to find women's games on television sets in most pubs during the March basketball frenzy. Even during the final four weekend, women's basketball struggles with ratings and rarely covers the costs associated the programs, forcing universities to operate the programs at a fiscal loss.
"What women learn from sports, including fighting back after defeat, can't be accounted for in a financial statement and will help long after college, said Susan Herbst, Connecticut's female president.
Rarely sell-outs, womens' basketball ticket prices are well below their male counterparts.  At Ohio State the average ticket price for the mens' games is $25 and $9 for women's games.  According to Bloomberg News, "3.5 million people watched on television as Connecticut beat Stanford 53-47 in 2010 for the women's NCAA title, while Duke University's victory over Butler in the men's match attracted an audience of 23.9 million, according to New York- based The Nielsen Company."
Universities lose money on most sports programs for both men and women with the exception of men's basketball and football.
"Female athletes are worth the investment whatever their sports' earning power, said Susan Herbst.  "It's a different calculus," she said. "Women are still not where they need to be."
To view the NCAA Women's Division I Tournament bracket, click here.  Tune in to support your favorite team!