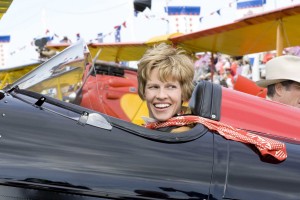 Courtesy of Emma Taylor, Accredited Online Colleges – March is national Women's History Month. Women's history is everyone's history. Just like men, women have molded and shaped the known world for better and for worse alike. In this upcoming month dedicated to honoring women's history, you'll find a great opportunity for recognizing great movies for, by, and about women. Organize a movie night and get educated about some of the seriously cool ladies – both real and fictitious – populating the cinematic sphere.
La vie en rose dir. Olivier Dahan: Singer Edith Piaf led a life at once beautiful and wholly tragic, reflected in this heavily acclaimed film starring the haunting Marion Cotillard.
Julie & Julia dir. Nora Ephron: Even audiences who manage to burn water can still love and appreciate the absolutely charming Julia Child – played here by Meryl Streep – and enthusiasm for the culinary arts.
Selena dir. Gregory Nava: Learn all about Tejano music sensation Selena Quintanilla-Perez, whose life shockingly and tragically ended when the president of her fan club committed a wholly unexpected murder.
Evita dir. Alan Parker: Argentineans either adore or despise struggling actress Evita Duarte and her husband, President Juan Peron, and this cheesy-but-beloved musical illustrates their wild days and mad existence.
Amelia dir. Mira Nair: Amelia Earhart may have failed in her attempt to circumnavigate the globe, but as an aviatrix still serves as an inspiration to girls and women hoping to succeed in traditionally male-dominated industries and hobbies.
Persepolis dirs. Vincent Paronnaud and Marjane Satrapi: This striking animated adaptation of Marjane Satrapi's seminal graphic memoir delves deeply into the changing face of Iran following the deposition of the shah and the personal prejudices she encountered living in Europe.
Jeanne d'Arc dir. Victor Fleming: Even some nonreligious women find Jeanne d'Arc and her fearless battlefield prowess a strong role model, and she pops into vivid life here depicted by the stellar Ingrid Bergman.
Erin Brockovich dir. Steven Soderbergh: Like all films adapting real people and situations, liberties regarding the nonfiction inevitably occur here. But that doesn't diminish the core environmental justice, public health, and consumer rights messages at the center of this biopic.
The Runaways dir. Floria Sigismondi: Joan Jett herself intimately participated in the production of a movie all about the early days of her influential teenage rock band The Runaways.
Silkwood dir. Mike Nichols: Explore the very real, very terrifying true story of Karen Silkwood, who witnessed some awful human rights violations while working at a plant processing plutonium and died under mysterious and suspicious circumstances.
To read more, click here.