Meet Women Winning's New Executive Director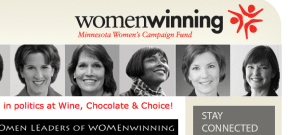 Women Winning Names Lauren Beecham Executive Director
Beecham brings wealth of Minnesota political and fundraising experience to the state's largest pro-choice women's PAC
Women Winning – whose mission is to encourage, promote and support pro-choice women's leadership in all political parties and levels of public office – announces the hiring of Lauren Beecham as Executive Director.
Beecham, one of Minnesota's most successful political fundraisers, comes to Women Winning from her position as Minnesota Finance Director to United States Senator Al Franken.  Before that, Beecham raised nearly $5 million for Women Winning-endorsed candidate Tarryl Clark's congressional campaign in 2010 – placing her near the top among challengers nationwide for the election cycle.
"I am extremely honored to be joining such a revered organization and work on behalf of our many strong women candidates, talented staff and board members," said Beecham. "Over the years Women Winning has transformed the face of women's leadership at every level of public office in Minnesota.  With the recent election of Kari Dziedzic and Susan Allen to the legislature, Women Winning's winning streak has continued, having endorsed in five of the six recent special elections.  I look forward to working with Women Winning's dedicated membership to grow the organization and to reach out to Minnesotans to further change the face of politics in our great state in 2012 and beyond."
Beecham will bring an extensive background in Minnesota politics and fundraising to her position.  She grew up in Saint Paul, Minnesota, attended Cretin-Derham Hall High School before graduating from the University of Saint Thomas.  Beecham began her political career working as Deputy Finance Director on Senator Franken's 2008 campaign.  She also worked on Mayor Chris Coleman's 2009 reelection campaign as finance director.
"Women Winning is thrilled to announce the hiring of Lauren Beecham, one of the state's most successful political fundraisers to our team," said Board Chair, Erin Dady. "It's an exciting time for our organization as we celebrate our continued winning streak headed into the 2012 elections.  Lauren is the right leader, with the right vision, to take our organization and our endorsed candidates to the next level."
Women Winning celebrates a string of wins heading into 2012.  Women Winning endorsed candidates are five for five in legislative special elections this cycle.  Women Winning also endorsed 31 candidates across Minnesota in the 2011 local elections for the offices of school board, city council, mayor, and county commissioner – 20 were elected to office.
About Women Winning
Women Winning (formerly Minnesota Women's Campaign Fund) is ready to expand its development operations and recruit and endorse more women candidates in Minnesota in 2012.  Women Winning's endorsement comes with significant power.  Last cycle, Women Winning raised more than $200,000 in direct contributions to its endorsed candidates and frequently contributes the maximum amount directly to their campaigns.  Moving into 2012, Women Winning is poised to help elect more pro-choice women than ever before.
Women Winning was established in 1982 by 25 non-partisan pro-choice women who wanted to increase the number of women in public office. Twenty-nine years later, Women Winning is the largest and most influential statewide women's PAC. Since 1982, it has given over one million dollars to nearly 2,000 women's campaigns through direct contributions and support for candidate training and recruitment. To learn more about Women Winning, go to www.womenwinning.org or follow us on Facebook and Twitter.