Seven month pregnant candidate walks in parade while male opponent rides in convertible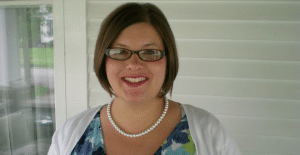 By Kathy Groob, Publisher ElectWomen Magazine – Nothing, even being seven months pregnant at the time, would stop Sheila Calko from getting out and talking to voters in the Howland, Ohio July 4th parade.  A young mother of two, Calko is running for Ohio's 64th District House Seat against an older male incumbent.  There are striking differences between the two candidates.  "I am someone who can identify with the average person in the community," says Sheila Calko.  "I come from a working class family and we are struggling just like everyone else in our community."
Sheila Calko's background includes being a teacher, community activist and mother of two boys.  When asked how she would juggle the pressures of a campaign along with her active life and family responsibilities, Shelia replied "This is my life; I've always been the sort of person who does a million things at once.  I have passion and energy."
Since returning to her hometown after college, Calko has been involved in politics organizing community efforts for jobs and for the environment.  "Our community deserves a voice in legislature that will be a progressive voice and stand up for working families," says Calko.
Sheila Calko's husband is a union steelworker and she expects to receive grassroots support from local union members.  "I look just like the people in our community and I am just like them.  I can be the real voice of the people; not a typical politician but more like the average person in this community," says Calko.
Calko's background in education will be a plus when serving in the state legislature.  "I learned so much about education policy and I know I can make an impact  – it's the state that funds and mandates the schools and it would be a wonderful way to have an impact on education throughout Ohio," says Calko.
"We need women and mothers in office that understand women's issues which are whole family's issues," says Calko.  "Women are the ones the front lines of caring for their families and we need good health care and education for families.  Too many families and children are falling between the cracks in our community."
To learn more or contribute to Sheila Calko's campaign, click here.