Name It. Change It. Calls out Sexism in the Media

In 2010 Name It. Change It.'s historic collaboration between She Should Run, the Women's Media Center and Political Parity turned common political wisdom about how women should handle sexism in the media and in political attacks, upside down. Renowned pollster and consultant to countless women candidates, Celinda Lake, has stated: 'If we had had this research in Hillary Clinton's Presidential race, there might have been a different outcome.' The research demonstrated that even mild sexism, such as focus on hair, makeup, and shoes, is just as damaging electorally, as virulent misogyny.
 Name It. Change It. is a non-partisan project of WCF Foundation, Women's Media Center, and Political Parity.
 The research proved that the electoral impact is significant, undercutting a voter's ability to see a woman candidate as likeable and trustworthy. However, as long as a woman candidate immediately responds to sexism in the media or political attacks and calls it sexist, she can not only regain all the lost votes, but also gain a positive bump in the polls from voters who assume her opponent was behind the attack, whether or not that was true. It's equally effective, if the candidate speaks out on her own behalf or if third parties do it for her. Interestingly enough, an equally positive benefit is enjoyed by the woman candidate who either calls it sexist and pivots off that (to talk about what voters really care about) or who says right there that it's sexist and stresses that women have classically had to endure such attacks despite the fact that no man would ever have to put up with this.  Surprisingly, research shows that both strategies work equally well. The most important thing is that the woman candidate calls it what it is—sexist.
In her 2010 bid for U.S. Congress (VA-01), Krystal Ball used the Name It. Change it. findings superbly. As a challenger who had had sexist photos of herself blasted all over the internet, she ran a terrific race against an entrenched incumbent, but polling showed her still trailing behind. Her use of Name It. Change It., polling showed, closed the margin of loss by over 10 points and turned her into an overnight national and international media pundit—she became the 3rd most Googled name in the world and is now an MSNBC commentator.
Because she used Name It. Change It. research to her benefit, Ball was able to call it what it was.  Congresswoman Janice Hahn, in a special election race for California (CA-36), was also at the receiving end of horrendous sexism in an Internet political ad. She too used Name It. Change It.'s findings to her advantage and it completely backfired on her opponent.  No matter what office a woman runs for, she and her supporters need to be at the ready to respond directly, or have a third party ready to do it for them, to any sexist attacks.  If she responds correctly, it might just be the margin of win that takes her over the top.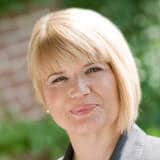 Name It. Change It. was born out of She Should Run's CEO/President Sam Bennett's experiences running as a woman candidate. "When I ran for mayor in 2001 of Allentown, Pennsylvania, I was asked in my first debate in a room full of press and committee men, 'Just what are your measurements?'," said Bennett. "When I ran for US Congress in 2008, the following quote was plucked from the internet and emblazoned for multiple days with a color photo of me across the front of our tribune paper, 'Sammy Bennett is a phony political wh*** who gives good head and makes cheap political opportunists look like fuc**** Mother Theresa, even her p***y is made of plastic."
Each time the sexist remarks occurred, Sam Bennett was advised by her political consultants and national trackers not to respond, that such a response would hurt her race. Bennett was worried that no woman would ever run again in her community knowing what they had to be subjected to. "Indeed, it's one of the top reasons women say they won't run for office, contributing to our being ranked 87th in the world in number of women in elected office," says Bennett.
For more information, visit http://www.nameitchangeit.org.