Hot Trends: Telephone Town Hall Meetings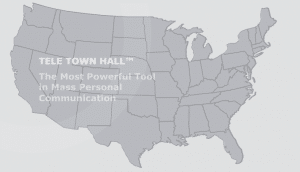 The latest trend in LIVE, person-to-person communications is telephone town hall meetings.  For budget conscious and technology savvy women candidates, Tele-Town Hall currently provide thousands of elected officials, political candidates, non-profit organizations, associations, and businesses with one of the most convenient and cost-effective means of mass personal communications.
Tele-Town Hall™ has developed patented technology that allows users to connect LIVE with thousands, tens of thousands, even hundreds of thousands of households through an interactive town hall meeting conducted over the telephone at the touch of a button. Audience members are invited to participate in an open discussion forum, pose questions LIVE to the Speaker, and respond in real-time to polling questions without having to leave the comfort of their own homes.
Here's how it works:
Tele-Town Hall™ rapidly dials out to a list of voter phone numbers.
The targeted audience receives your personalized, pre-recorded message inviting them to remain on the line to be transferred automatically into the live Tele-Town Hall™ meeting.
When joining the meeting, participants have the opportunity to ask the "Star Speaker" questions live, as well as to respond to real-time Survey Questions using their phone keypads.
Using a customized Tele-Town Hall™ Web Interface, the "Star Speaker" controls which participants ask their questions live on the conference as well as when to pose Survey Questions to the audience.
Participants, who are unable to ask their questions live, have the option to leave a personal message with a Call Screener or a Tele-Town Hall™ voicemail for the "Star Speaker" at the conclusion of the meeting.
Following the Tele-Town Hall™ meeting, you will receive a detailed report complete with participant statistics as well as a FREE digital recording of the event that may be posted to your website.
To see how it works, visit our DEMO: Demo Tele-Town Hall,
and click the "Start" button.
To use Tele-Town Hall for fundraising:
During your Tele-Town Hall event, you can optionally use the fully-integrated Tele-Town Hall Collector Screen to fundraise. In many cases, the funds raised during a Tele-Town Hall event have often paid for a campaign's event, as well as raised addition revenue. In addition to fundraising during the event, your campaign can use the event Report & Statistics to identify supporters by following up with every voter household that participated in the Tele-Town Hall for 5 minutes or longer to raise additional funds.
Innovative Features:
Live Q & A
Real-Time Survey Questions (ask voters for their support or to put up yard signs)
Fundraise & Collect E-mail Addresses during your event
Pre-Screen Questions
Invite Guest Speakers
Video & Audio Webcasting
Facebook Integration
Skype Integration
Detailed Follow-up Report & Statistics
FREE Digital Recording
For more information, contact Shaun Thompson at 202-237-8571 or click here for the website.