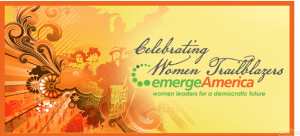 On recent election days across the U.S. from California to Maine, Emerge America claimed nine victories for democratic women increasing the number of women holding elected office in America.  Now these critical victories will be celebrated and the officeholders honored at Emerge America's first annual luncheon on October 26 at The Fairmont in San Francisco.
The list of women trained by Emerge and winning at the ballot box reads like a roll call of the states.  Victories were won in California, Arizona, Massachusetts, Wisconsin, Oregon, New Mexico, Maine, Nevada and Kentucky.
Trained and supported by Emerge, the nine women trailblazers to be honored at the luncheon are:
·      Susan Chalifoux Zephir, Leominster City Councilor, Massachusetts
·      Jessica King, Wisconsin State Senator
·      Val Hoyle, Member, Oregon State House of Representatives
·      Malia Cohen, Supervisor, San Francisco Board of Supervisors, California
·      Roxanne Lara, Eddy County Commissioner, New Mexico
·      Katie Hobbs, Member, Arizona House of Representatives
·      Jenna Vendil, Portland Board of Education, Maine
·      Irene Bustamante-Adams, Member, Nevada State Assembly
·      Rita Smart, Member, Kentucky House of Representatives
To read more about the honorees, click here.  
"Office by office, state by state, we are changing the landscape of American politics," said Karen Middleton, President of Emerge America, a former Colorado state legislator.  "The U.S. ranks 90th in the world when it comes to electing women to office – that's behind Mexico, China and Pakistan. Emerge America is changing that fact by inspiring and training qualified women to hold local, state and federal office."
The first national "Celebrating Women Trailblazers" luncheon will be held on Wednesday, October 26 at The Fairmont in San Francisco.  Doors open at 11:00 a.m. Tickets to the luncheon and event sponsorship supports Emerge America and the future victories of Democratic women candidates across the U.S.
About Emerge America
Launched in 2002, Emerge America was created to address the under-representation of women in office at the local, state, and federal level.  Our program is the essential step for Democratic women who want to run for public office.  It is the only in-depth, seven-month training program that that provides Democratic women with the comprehensive training they need to achieve their political aspirations.  There are Emerge programs in nine states: Arizona, California, Kentucky, Maine, Massachusetts, New Mexico, Nevada, Oregon, and Wisconsin.  Emerge America is based in San Francisco, California. Former Colorado state legislator, Karen Middleton is President.  To learn more about Emerge America, please visit: http://www.emergeamerica.org