CANDIDATE'S CORNER: Make Way for Votocracy – The New Wave of Campaign Technology Tools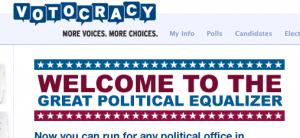 Just when you thought you had mastered Facebook and Twitter, here comes another round of technology tools designed to bring you closer to your voters.  Votocracy is an online platform that addresses the overlap of social media and politics – and offers an easy solution. The interactive resource is a powerful tool for first-time campaigners and veteran politicos alike who recognize that strong social media assets are key to today's runs for office, providing a membership base of active supporters without time consuming recruitment of "fans."
At all levels – from city commissioner to U.S. president – candidates can set up a candidate page on Votocracy for $99 dollars (membership for supporters is free) and cut through the clutter to engage with constituents. The candidates will also have access to interactive campaign tools – such as issues-based polling and candidate-supporter matchmaking – real-time election details, personalized merchandise and more.
"Votocracy is able to provide female leaders an effective, affordable way to make their voice heard," says Votocracy founder Dave Remer.  "By leveraging the power of Facebook, Twitter, video content and interactive features , such as the daily opinion polls, candidate matching and community discussions, all on a single site, candidates are offered a level playing field where the issues and merits of argument speak for themselves."
With more than 300,000 elections nationwide, Votocracy is an invaluable platform that makes it easier than ever before for candidates and voters to connect, share their viewpoints, effectively campaign for office and discuss the issues closest to home – whether that's the remapped congressional districts, union shake ups or mishandling of public funds. The ultimate goal is to foster constructive, non-partisan conversations and eliminate what has become the standard – that the candidate with the deepest pockets has the loudest voice.
How Does it Work?
The platform lives both on www.votocracy.com and as an app via Facebook.  At this point, all of the areas that are housed on Facebook (all tabs aside from the homepage and the poll) have to work within the parameters set by Facebook, which includes the "Allow" button. There has been talk of Facebook streamlining and editing this process, so we have our fingers crossed for quick movement on that! If you have further concern, here is the link to the privacy policy: http://www.votocracy.com/privacy.
Here are links to the candidate and member tip printouts for more information
http://www.votocracy.com/downloads/member-tips.pdf
http://www.votocracy.com/downloads/candidate-tips.pdf