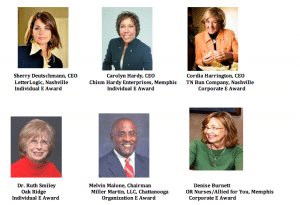 Women from across Tennessee will come together for the eighth annual Economic Summit for Women sponsored by the Tennessee Women's Economic Council Foundation on October 24, 2011.    Keynote speakers include Jean Chatzky and Kathy Hopinkah Hannan along with a variety of workshops and awards.  Tennessee's premier networking and educational event for women will be held at the Nashville Airport Marriott.
 "MISS REPRESENTATION", The Media's Influence on Women and Girls The Study, Documentary & Discussion will be a featured afternoon session and will be offered by Dr. Stacy Smith, Associate Professor, Annenberg School for Communication & Journalism University of Southern California.
The documentary film "Miss Representation" will inspire women to find their own voice and power.  It is the movie filmmaker Jennifer Siebel Newsom made for her daughter. There will be a film trailer at the Summit session and professional knowledgeable women discussing the issue of why women are under-represented and often misrepresented in the media and what can be done to change this.  The Oprah Winfrey Network (OWN) has added the film to its documentary library.
After the Summit concludes at the Nashville Airport Marriott, the full film will be screened at Lipscomb University and will be complimentary for those who attend the Economic Summit.
In the film, some of the world's female power players like Condoleezza Rice, Katie Couric and Geena Davis talk about the scrutiny of their skirt length, the loneliness of being a woman at the top and the hate mail.
About the Summit
The Tennessee Economic Summit for Women, presented by the Women's Economic Council Foundation, Inc. and the Tennessee Economic Council on Women, began in 2004 with the goal of helping the women of Tennessee to become economically self-sufficient.
Since 2004, thousands of women have gathered at the annual event to hear expert speakers discuss women's economic issues such as medical costs, financial planning and literacy, business ownership and development and political participation. Speakers have included Patricia Schroeder, Marie Wilson, Sandra Day O'Connor, Robin Gerber, Helen Thomas, Gail Evans, Governor Phil Bredesen, Dee Dee Myers and Gloria Steinem.
In 2011, the tradition of offering excellent and timely information and the opportunity to meet and network with the most dynamic women in Tennessee will continue. Join us for a day of interaction and engagement to see results in your life as we continue to move ourselves, our family and our communities forward.
The Foundation and Council members welcome you and thank you for your continued energy, encouragement, ideas and support.
For more information or to register before the early bird rate expires, October 14, visit http://www.tnwomensummit.org.