BUSINESS CORNER: What Women Need to Advance: Sponsorship
By Sylvia Ann Hewlett for Forbes Magazine – The business case for having more women in senior positions at corporations is clear. Quite simply, women bring a different perspective to the work world. Multiple studies have found a correlation between corporate performance and the percentage of women on boards, regardless of the industry. For example, a 2010 McKinsey study finds that across all sectors, companies with the most women on their boards of directors significantly and consistently outperform those with no female representation. The lack of gender diversity within financial services companies has even been cited as a possible cause of the 2008 financial crisis, primarily because testosterone-laden work teams are prone to take on more risk.
Having a diverse team is vital not only to success, but also to innovation. With women consumers making the majority of purchasing decisions across the globe, corporations looking to stay on the cutting edge of their industries are well advised to cultivate gender diversity.
However, in order to achieve real progress in gender parity, corporations must have a commitment at the top that enables them to not only find, but retain and promote female talent. They must provide the career development opportunities (leadership training, executive coaching, sponsorship) that ensure that women are ready for those high-level positions that will make a difference to the bottom line.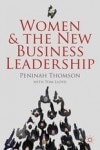 That's why the recently published book Women & the New Business Leadership (Palgrave Macmillan) is so valuable.  Authors Peninah Thomson and Tom Lloyd move beyond the business case for getting women on boards to show companies how to make this a practical reality. Thomson, an executive coach with Praesta Partners, and Lloyd, a writer specializing in management issues, provide a roadmap of action items to help women get the experience they need to be appointed to senior positions on executive boards.
As Thomson and Lloyd show, the key to getting women on boards is to move beyond traditional mentoring programs and provide women with high-level, cross-company, cross-gender sponsorship. Mentors can undoubtedly be helpful by lending advice and guidance to mentees, but sponsors are critically important.   Without a high-level advocate, the career of a high-potential younger person tends to wither on the vine. Women need sponsors, or "friends at court," as the authors put it—senior executives who are willing to leverage their influence to advocate for promotions and stretch assignments.
Research from the Center for Work-Life Policy, a New York-based think tank, quantifies the power of the sponsor effect. Sponsorship provides a statistical benefit of up to 30 percent when it comes to stretch assignments, promotions, and pay raises—a boost that mentoring alone can never hope to match.
Yet many junior women still underestimate the crucial push sponsorship can contribute to a high-potential but unrecognized employee. According to CWLP data, 77 percent of women believe that hard work and long hours, not connections, contribute the most to their advancement. There's an overwhelming sense that getting ahead by any other means is dirty. Furthermore, many are hesitant to pursue a relationship with a senior male sponsor for fear of the perception of being sexually involved.
To read the full article, click here.