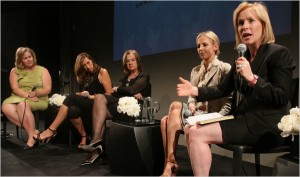 New York Times – As a girl, Kirsten E. Gillibrand learned about politics from her grandmother, Dorothea Noonan, a secretary in the New York State Legislature who defied the norms of her day and organized other women into what became a formidable political club in Albany.
Ms. Noonan, known as Polly, would take her granddaughter to the Albany Democratic Women's Club when election season rolled around and had her stuff envelopes, work phone banks, slap bumper stickers on cars, hand out fliers and knock on doors. "I grew up watching her run these campaigns," Ms. Gillibrand said of her grandmother, who rose to become a major figure in the legendary political machine operating in Albany during the mayoralty of Erastus Corning 2nd. "It was pretty important to me."
Now, Ms. Gillibrand is a senator, embarking on a similar effort — albeit on a far larger stage. She has begun a campaign, called Off the Sidelines, to mobilize women across the country, in advance of the national elections next year and as evidence emerges that the slow but steady progress made by women in elective politics has begun to stall.
In the past few months, Ms. Gillibrand activated her network of donors to help female candidates, emerged as a headliner among audiences of women, tried to recruit female candidates, advised women thinking about running, and started a Web site,offthesidelines.org. Her efforts were most recently on display during a special election in May to fill an open House seat in New York's 26th District, one of the most conservative regions of the state, where the Democrats faced an uphill battle.
While top Democrats in Washington were initially reluctant to get behind the Democrat in the race, Kathy Hochul, Ms. Gillibrand was not: she raised money,campaigned for Ms. Hochul and dispatched her closest advisers to the district.
Ms. Hochul, a former Erie County clerk, won the race. In an interview last week, she said the support Ms. Gillibrand provided had been a turning point for her. "She gave me legitimacy at a time when other people were not taking our race seriously," she said. "We spoke frequently on the phone. She gave me a lot of encouragement."
Ms. Gillibrand said that part of what was driving her was a little-noticed outcome of the 2010 elections: the number of women in Congress actually declined — by a small fraction — for the first time in 30 years.
Ms. Gillibrand said the decline was all the more astonishing given that it came just two years after Hillary Rodham Clinton, her predecessor in the Senate, had waged a historic campaign for the White House.
Women in elective politics face hurdles outside Congress. Currently, women hold 22.1 percent of available statewide executive positions, down from 27.6 percent 10 years ago, according to the Center for American Women and Politics at Rutgers University.
To read the full New York Times article, click here.
Check out Sen. Gillbrand's new website:  Off the Sidelines