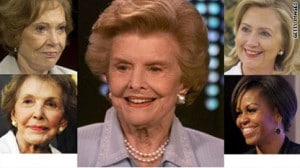 Washington (CNN) –– Current and past first ladies and two former presidents will attend a Tuesday memorial service in California for former first lady Betty Ford.
The White House announced that Michelle Obama would travel to Palm Desert, California, for the National Tribute Service.
Former first lady Rosalynn Carter will be one of the eulogists, Ford family spokesman Gregory Willard said over the weekend. Journalist Cokie Roberts will join Carter in paying tribute to Ford.
Hillary Clinton, the current secretary of state, will be accompanied Tuesday by her husband, former President Bill Clinton, an aide told CNN. Nancy Reagan also will attend the service, starting at 2 p.m. (5 p.m. ET) at St. Margaret's Episcopal Church in Palm Desert, a Reagan Foundation official said.
Former President George W. Bush also will attend the service but without his wife, former first lady Laura Bush, who had previous travel commitments, according to a spokesman. Bush's mother, former first lady Barbara Bush, will attend a private funeral in Michigan on Thursday, the spokesman said.
Following the Tuesday service, Ford's remains will lie in repose at the church until midnight, then be flown on Wednesday to Michigan to the Gerald R. Ford Museum in Grand Rapids, according to a website on the memorial plans. Ford's remains will then lie in repose there beginning at 7 p.m., said a statement posted on the website.
On Thursday, Ford's private funeral will be held at Grace Episcopal Church in Grand Rapids, the statement on the website said.
Ford, who died Friday at age 93, raised awareness of issues involving women's rights, cancer, alcoholism and substance abuse during and after her stint as first lady. Her late husband, former President Gerald Ford, died in 2006.
The alcohol and substance abuse treatment center in Rancho Mirage, California, that bears her name has become one of the best-known facilities of its kind in the country.
In remarks to reporters Monday, Clinton said she was "grateful for having known" Ford.
"Her commitment to speaking out on issues that, before she took them on, were just not discussed made a huge difference in the lives of Americans," Clinton said.
To read the full CNN post, click here.