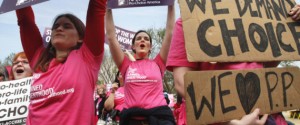 Huffington Post – Until July 1, a low-income New Hampshire woman paid an average of $5 to fill a birth control pill prescription at any of the state's six Planned Parenthood clinics. She might have even gotten the birth control for free, depending on her poverty level.
But since the New Hampshire Executive Council voted to cancel the state's contract with Planned Parenthood, a woman now has to pay anywhere from $40 to over $100 for birth control pills at a regular pharmacy.
The Council, a constitutionally empowered group of elected officials, rejected up to $1.8 million in state funding for the family planning-provider — about 20 percent of its total annual funding — and stripped its authority to dispense low-cost birth control and antibiotics to uninsured patients.
"We can't even provide patients with antibiotics for urinary tract infections or STDs anymore," said Jennifer Frizzell, a spokesperson for Planned Parenthood of Northern New England. She said Planned Parenthood has had to turn away 20 to 30 patients a day who are showing up to refill their prescriptions.
"We have to send them away with a prescription knowing that without insurance, they have to pay the full cost of that at a local pharmacy, and many patients have told us they're not gonna have the money in their budget to afford to fill those prescriptions."
New Hampshire lawmakers rejected multiple attempts to defund Planned Parenthood during the 2011 legislative session, voting repeatedly in favor of continuing to fund PPNNE using the state's federal family planning money. But the Executive Council, which oversees state contracting and generally stays out of hot-button political issues, overturned the decisions of both the state legislature and the Department of Health and Human Services with its 3-2 vote against Planned Parenthood.
How would your life be affected if you could no longer receive care at Planned Parenthood? Email [email protected]. Please include your name and phone number if you're willing to do an interview.
"Not only was this vote unanticipated, but it's a little bit of a reach when the Council is using its role to act as a super-legislature," Frizzell told HuffPost. "We don't get a hearing to make our case or rebut their concerns–it's a closed process that has historically been much more limited in its scope than a legislative process."
The three Councilors who voted against funding for Planned Parenthood said they did so because some of its clinics provide abortions, even though those abortions are entirely privately funded. Councilor Raymond Wieczorek of Manchester added that he opposed funding for birth control and condoms altogether.
"If they want to have a good time, why not let them pay for it?" he told the Concord Monitor last week.
None of the Councilors could be reached for further comment Monday.
To read the full Huffington Post article, click here .