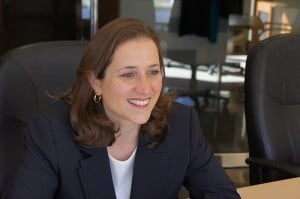 By Kathy Groob – No shrinking violet, West Virginia Secretary of State Natalie Tennant is up against a powerhouse of male candidates in the upcoming West Virginia gubernatorial Democratic primary election.  From the current appointed sitting governor to the Speaker of the House and President of the Senate, Natalie Tennant is the only woman to face off against five men on May 14th.  Candidates are vying to replace former Governor Joe Manchin who vacated the seat to replace Robert Byrd in the U.S. Senate.  Primary winners will run in the general special election to be held on October 4, 2011.
The daughter of a teacher and a principal, the 43-year-old Tennant plans to continue to reform education in West Virginia.  Her top priorities include putting in place stronger measures for dealing with truancy and discipline, brining more technology and innovation into the classroom and teacher accountability.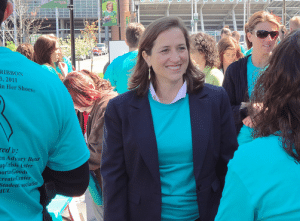 Along with economic growth and development, Natalie Tennant plans to tackle West Virginia's huge drug abuse problem.  And hopes to implement sweeping reforms in terms of health care, to deal with drug abuse and obesity.
Tennant grew up in West Virginia, attending North Marion High School and then earning a bachelor's degree in journalism and a master's degree in corporate and organizational communication at West Virginia University, where in 1990 she became the first and only woman to represent WVU as the Mountaineer mascot.
After graduation, she served as a television anchor and reporter in the Clarksburg and Charleston markets and was a small business owner.  Tennant was elected Secretary of State in 2008 and has held the office since 2009.
Despite a fundraising advantage by the sitting governor, the Tennant campaign remains optimistic.  "With nine days still to go, this race is just starting to heat up. We are continuing to reach out to voters across the state on the ground, by phone, and on television. We know that the folks who are fired up to vote next Saturday like Natalie Tennant, respond to her message of innovation and accountability, and want to elect her governor," said a Tennant campaign spokesperson.
For more information about Natalie Tennant, click here.  Or to read the Emily's List information on Natalie Tennant, click here.
Update:  Acting Gov. Earl Ray Tomblin won the Democratic primary in the West Virginia gubernatorial race, notching a resounding win in a large field. When the AP called the race, Tomblin had 41 percent of the vote and state House Speaker Rick Thompsonwas in second place with 22 percent, followed by Secretary of State Natalie Tennant with 19 percent, Treasurer John Perdue with 13 percent, and acting state Senate President Jeff Kessler with 6 percent.