Female Anchors: Making an impact on women's political voices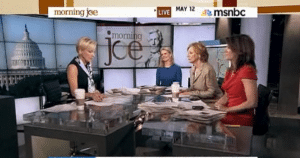 By Kathy Groob – Political television talk shows have been for years dominated by dark suits and male voices until recently when female hosts began changing the landscape.  It is the often the political pundits who have a hand in shaping the message—sometimes more than the candidates themselves. Political television roundtable discussions have traditionally been almost entirely filled with male voices.
CBS Market Watch's Kristen Gerencher on Sunday morning political talk shows "Sunday-morning channel surfing often yields nothing but testosterone-fueled debates." The five major Sunday morning talk shows — ABC's "This Week," "Face the Nation" on CBS, CNN's "Late Edition With Wolf Blitzer," Fox's "Fox News Sunday" and NBC's "Meet the Press" — don't appear to have boosted the number of women experts showcased in the last two years, after a 2001 report demonstrated just how underrepresented they were, political pundits say.
Author Selena Rezvani says TV perpetuates the old boys club.  "It's been shown that while women represent the majority workforce and university degree holders, their presence in the news reached only 24 percent in 2010. The Global Media Monitoring Project, which reported the statistic, noted that "…the figure itself is a reminder that in the 'mirror of the world' depicted by the news media, the faces seen and the voices heard remain overwhelmingly those of men." Similarly, the Women's Media Center reports that on Sunday morning political talk shows (NBC's Meet the Press, ABC's This Week, CBS' Face the Nation and Fox Broadcasting's Fox News Sunday), male guests outnumber female guests four-to-one."
With Christiane Amanpour taking the reigns of ABC's This Week Sunday political talk show, more women are beginning to increase participation in the discussion.  The same is true on weekdays on MSNBC's Morning Joe with co-host Mika Brzezinski inviting more women to weigh in the top political news of the day.
Amanpour recently invited Sheila Bair, FDIC chairman to participate in This Week's roundtable discussion about America's debt limit.  She also featured an appearance with South Carolina Governor Nikki Haley.
While Morning Joe's co-host Joe Scarborough took a leave of absence due to the recent death of his father, Morning Mika filled the table with all women – Katty Kay, Peggy Noonan and Nora O'Donnell to discuss 2012 presidential candidates.  It might not have been a first, but it's still rare to fine a television set dominated by more women than men to discuss politics.
Make no mistake the dark suits still outweigh their female counterparts by comparison on the television talk shows.  But as more women take the chairs as anchors and hosts, the trend toward more female political voices should increase.