Become a Project Ally for the 2012 Project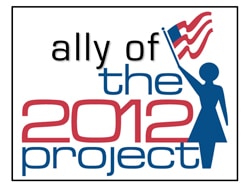 Last November's election results were a stunning reminder that American women are losing the battle for full participation in our government. We witnessed the first backslide in women's overall numbers in congressional and state legislative offices in more than 30 years.
The 2012 project is an initiative sponsored by the Center for American Women and Politics to reverse the trend of declining women's political participation. Launched last July, The 2012 Project targets baby boomer women who are accomplished in fields, including science, technology, energy, and finance, that are currently underrepresented in state legislatures and Congress. A non-partisan campaign of the Center for American Women and Politics at Rutgers University, The 2012 Project aims to take advantage of new and open seats that will be created after redistricting.
The 2012 Project has been on the road testing its message and asking women from our target fields to consider public office. With our extraordinary faculty of former women legislators and members of Congress, we've made our case to audiences across the country, including the Women's Council of Realtors, the Society of Women Engineers, and the American Medical Women's Association, to name a few. Nearly 100 women have already stepped up to explore candidacies. Now we're beginning to match them with allied organizations like yours.
To help spread the word about the mission and collaboration by building momentum for The 2012 Project through visibility and outreach. Here are a few simple ideas:
·         Spread the word among your supporters. Send a press release to your media list or an e-mail to your membership about your decision to join The 2012 Project as an ally. If you have a blog or a newsletter, post an update or an article about The 2012 Project and your partnership with us.
·         Link to our web site. The 2012 Project is online with videos, news, and resources for potential candidates and supporters. Our logo is available here, and you can find us at www.the2012project.us.
·         Tweet your followers about your involvement with The 2012 Project. See our feed at http://www.twitter.com/the 2012project for ideas.
·         Connect with us on Facebook. Talk about The 2012 Project on your Facebook page and invite people who would like to know more to go to www.facebook.com/the2012project.
·         Invite The 2012 Project. If you're having a webinar or other similar online or live event, The 2012 Project can be a guest.
To become involved, contact [email protected].