Hat Controversy Brewing in New Congress
Hats off for Florida congresswoman-elect Frederica Wilson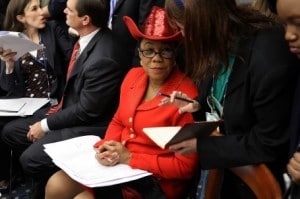 Washington Post – The world of hat-making is relatively small, and within that tiny universe of horsehair and feathers, Rep.-elect Frederica Wilson (D-Fla.) is a glorious, bedazzled star. Washington, however, does not cotton to glitter, spangles or bright shiny objects.
Thus, the stage was set for a righteous kerfuffle between Technicolor exuberance and humdrum beige. But whom are we kidding? You already know how this tale is going to end.
Wilson, 68, who was elected last month to represent part of the Miami-Fort Lauderdale area, has distinguished herself with a daily display of head-snapping hats that blend church lady formality with rodeo queen panache. But her love for a flashy Stetson has run up against a long-standing rule: No hats on the House floor.
The ban dates to 1837, and not even the famously tough-talking, hat-wearing former congresswoman Bella Abzug could overturn it.
Wilson's fashion dilemma became real during orientation for House freshmen. She had to remove her hat for her official portrait. But she told her hometown media that she planned to appeal the rule.
Hat-wearing, Wilson says, is a family tradition, one connected to her Bahamian roots and to her grandmother. "You know how some ladies buy shoes no matter how many pairs they have?" Wilson says, by way of explaining her 30-year fascination with pillboxes, cloches and such. Well, that's how she buys hats, and she has somewhere in the ballpark of 300, although she's never counted. "I like to dress up. I dress up every day, and I feel dressed from head to toe."
As a Florida state senator, Wilson "wore hats every day on the floor without incident or attention," she says. "Just like if someone was wearing a headband or a pair of eyeglasses, I wore hats."
She carefully crafts her ensembles, taking matchy-matchy to unprecedented heights of audacity. Indeed, a photograph of her at the recent House office lottery, in which she is wearing a fire-engine-red suit and matching cowboy hat drenched in sequins, has made the rounds in the millinery blogosphere. (Yes, there is such a thing.)
"I love the fact that she was confident enough to go sailing into the old boys' network wearing that hat and that red suit," says New York milliner Kokin – one name only, please – who has designed hats for Laura Bush, Barbara Walters, Queen Latifah and the extravaganza known as Ebony Fashion Fair.
"In her world, she's Lady Gaga."
But Washington is not like the sun-drenched, pastel-colored South Florida of her constituents. To wit: "No member is to come into the House with his head covered, nor to remove from one place to another with his hat on, nor is to put on his hat in coming in or removing, until he be set down in his place." Thus sayeth the House Rules Manual.
In interviews, Wilson had said she would consult Rep. John Boehner (R-Ohio), the presumptive next House speaker, to see whether he could give her a pass. She declared the ban sexist because decorum dictates that men remove their hats when inside but women do not.
In fact, congressmen originally wore their hats while the House was in session, in keeping with a tradition passed down from the British Parliament. Members of the House of Commons wore their hats indoors as a sign of independence from the king. In the country's first decades, there were multiple attempts to forbid hats in the House before they were finally banished at the urging of James Parker, a congressman from New Jersey.
To read the full story, click here.