As the winter olympics get underway in Vancouver Canada, Governor General Michaelle Jean plays host to the world.  Serving as the political representative of the Queen of England to the country of Canada, Michaelle Jean is the highest ranking female official in the country and the first black Governor General.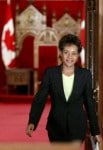 Born in Port Au Prince Haiti, Governor General Jean moved to Montreal with her family at when she was eleven.  A social activist for women and children, Jean has used her office to be an advocate for at-risk and disadvantaged children.  She studied languages at the University of Montreal and in Europe and is fluent in five languages.
From 1979 to 1987 Michaëlle Jean worked with Quebec shelters for battered women and helped establish a network of emergency shelters in Quebec.  She co-ordinated a study on women as victims in abusive relationships, which was published in 1987.  Michaëlle Jean has also worked with aid organizations for immigrant women and families.
She became Governor General of Canada in September 2005.
For more information, visit: http://www.gg.ca/index.aspx