Nude Model Defeats Martha Coakley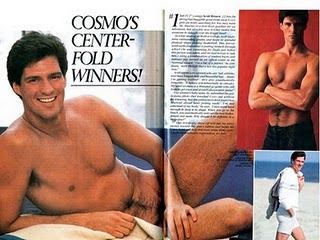 by Kathy Groob, Publisher – Former Cosmopolitan centerfold, Massashusetts Senator Scott Brown has defeated Attorney General Martha Coakley in the special election Tuesday to fill the vacant U.S. Senate seat that was previously held by Edward Kennedy.  Martha Coakley was defeated by a margin of 46% to 53%.  She called Scott Brown at approximately 9:21 p.m. to concede the election.
In 1982 Scott Brown posed completely nude and was featured in the Cosmopolitan centerfold spread.  It is safe to say that if a woman candidate were known to have posed nude in a major magazine, her political career would have been over before it started.
So now the leading man will take his place in the U.S. Senate, vowing to vote against any and all health care reform and against equal rights for gay Americans.  When asked about his nude spread in Cosmo, Brown remarked "I'm not ashamed of my body."
Newsweek's Katie Connolley had this to say about Brown's escapades, "Although a nude centerfold might not kill a female politician's career, it would most certainly prompt questions about her character. Was she unacceptably promiscuous? Did she have a wild, compromising youth? While we scoff at the exploits of young men─they're allowed to be "footloose and carefree"─women are rarely afforded that luxury. For Brown, who just turned 50, it's a case of "boys will be boys."
Take the ElectWomen poll – if a woman posed nude in a national magazine, would she have a chance of being elected?