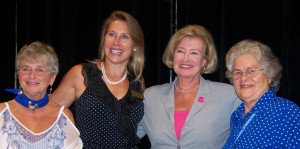 ElectWomen.com to provide LIVE Election Night Coverage of Women Candidates 
Covington, KY—ElectWomen.com Founder and Pink Politics Author Kathy Groob, will provide Election Night and Post-Election commentary and analysis on results of women candidates across the U.S.  Groob is also available for live interviews. ElectWomen.com will feature live coverage of women's races from U.S. Senate to local elections on Election Night into the following day.  Based in Northern Kentucky in the Cincinnati media market, Groob covers women's election news and provides resources to women candidates.
            "Women make up 56% of the voters but we have only 17% females in Congress," says Kathy Groob.  "In 2010 the number of women in elected office declined for the first time in 30 years.  Women are grossly underrepresented and we must change the trend." (Data courtesy of the Center for American Women & Politics).
                  Major national initiatives have been launched to reverse the trend for women in politics.  Training programs including Emerge America, The White House Project and The Women's Campaign Fund have focused on recruiting and training women to run for office.  The Center for American Women & Politics (CAWP) launched The 2012 Project that is a national, non-partisan campaign to increase the number of women in Congress and state legislatures by taking advantage of the once-in-a-decade opportunities of 2012.
"Record numbers of women are running for the U.S. Senate, Congress and at the local level," says Groob.  "Women are shattering fundraising records and are poised to move the needle forward.  We will know on election night whether women will begin to move closer to parity."
"Drawing upon my own experiences and from the women candidates I've worked with and supported, PINK POLITICS is the practical guide women need when making the decision to run for office," says author Kathy Groob.  "Women candidates still face huge obstacles to running for office but with a roadmap, they can find their way."
Kathy Groob wrote her book Pink Politics to help more women see themselves and candidates and have a "how-to" roadmap written just for women.
PINK POLITICS provides advice and strategies for:
Determining which office to run for and how to get on the ballot
Making your campaign announcement and securing commitments
Building a campaign team and organizing volunteers
Identifying donors and building a fundraising plan
Crafting an effective campaign message and how to spend campaign dollars
Developing a strong grassroots effort and outworking your opponent!
A 30-year businesswoman and executive, Kathy Groob was elected to her hometown city council two times before running for the Kentucky Senate. Groob has become a powerful advocate for women in politics and has inspired hundreds of women to become involved in politics.  She is the founder of ElectWomen and is a founding board member of The Women's Network and co-founder of Emerge Kentucky, a women's candidate training program.
For more information or to buy the book, visit www.electwomen.com or contact Kathy Groob at [email protected].